There are many effects that you can achieve when it comes to your wall surfaces. They are your blank canvas for your personal statement. There is wallpaper. There is paint. There is wood. And, there are techniques that fall under the faux finish category. All of these can be the answer but the real question is who are you?
Let's examine. Paint is the first line of defense when designing a room. Are you a clean surface person? Do you like uninterrupted fields of color or a neutral on which you build your collections and art? If so paint may be your tool of choice. Color blocking, as I call it, helps define the angles and can accent an architectural feature. Paint will also add dimension to a room that is little more than a box. You may have chosen a home that is more contemporary and demands that there is a continuity that runs through the entire space. I am currently working for an architect/developer in Califon, his home is a backdrop for his art. We have determined that he wants the walls to be planes that feature his collections and that they are not interrupted by color, just shape. Thus the walls just accentuate his collection.
To demonstrate the contrast, I have another client in the Saddle River area whom I had determined that her aesthetic and what she was comfortable living in was a more 60's vibe… the "Rat Pack" look I call it. It is walls of wood with openings that look into adjoining spaces. She had a unique situation where there are structural supports in odd places.
My solution was to do open dividers and walls of storage, housing storage and displaying art concealing these supports. The walls and storage were sheathed in rich but subtle vertical grain creating rooms within a room.
Another client in the Saddle River/Woodcliff lake area has a "Ralph Lauren meets the Edge" look. Her house has a mood change from room to room. She wanted to separate the functions and "her moods" and create complete spaces to enjoy these "moods". She and her husband have a very expansive view as to what they like and collect things accordingly. They like interesting textures, so therefore every room has a different texture in it.
In this case I used both wallpapers and faux finish. The entrance is sleek and shiny with a polished wall and onyx and rough slate combination with a gold bar of metal separates the two stones. In this instance the floor texture is as important as the walls. We move through the house and have subtle wall finish changes throughout…texture being the common thread.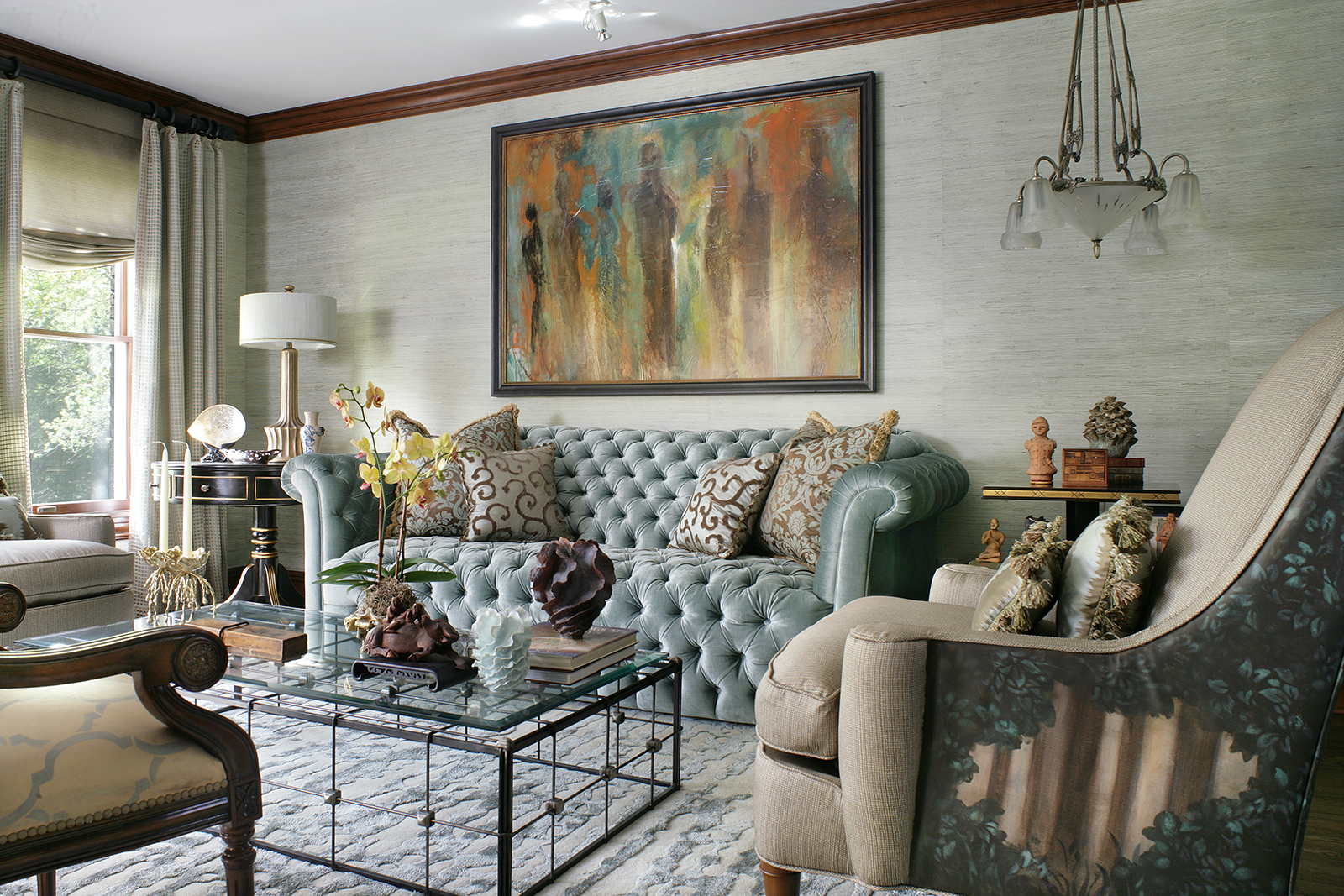 Finally in the old Living room which we turned into a combination room for them with an office in the back for him and a front space for her to watch TV and do her communications in the front section, we papered the wall in a grass cloth so it felt warm and cozy for those winter months.
What I hope that you are seeing here is that the choices that are available for your walls are almost endless. It is not about which wallpaper or paint or finish. It is about what best gets you to the final result that you have in your mind. It is a discovery and an exploration that is best handled with the right team. I and my design staff are the right team for you.