The Winter brings on thoughts of home and a return to Holiday Elegance. In this fast paced world, we work more hours every year. We take care of our homes and eat on the run barely fitting in all the things necessary to make it in the tri-state area. Soccer practice, school dates and PTA meetings run us ragged all year long. In New Jersey, New York and Connecticut we seem to run right past all the niceties that make life worth living.
The holidays are the one time we can slow it down and return to Holiday Elegance. This is not the time for buffet. The one elegance that we should afford ourselves is having a beautiful sit down dinner where you gently serve your meal over the course of several hours and really connect with the people you love. A well served meal in a festively decorated room speaks to your attention to detail. It shows that you care about the people you love.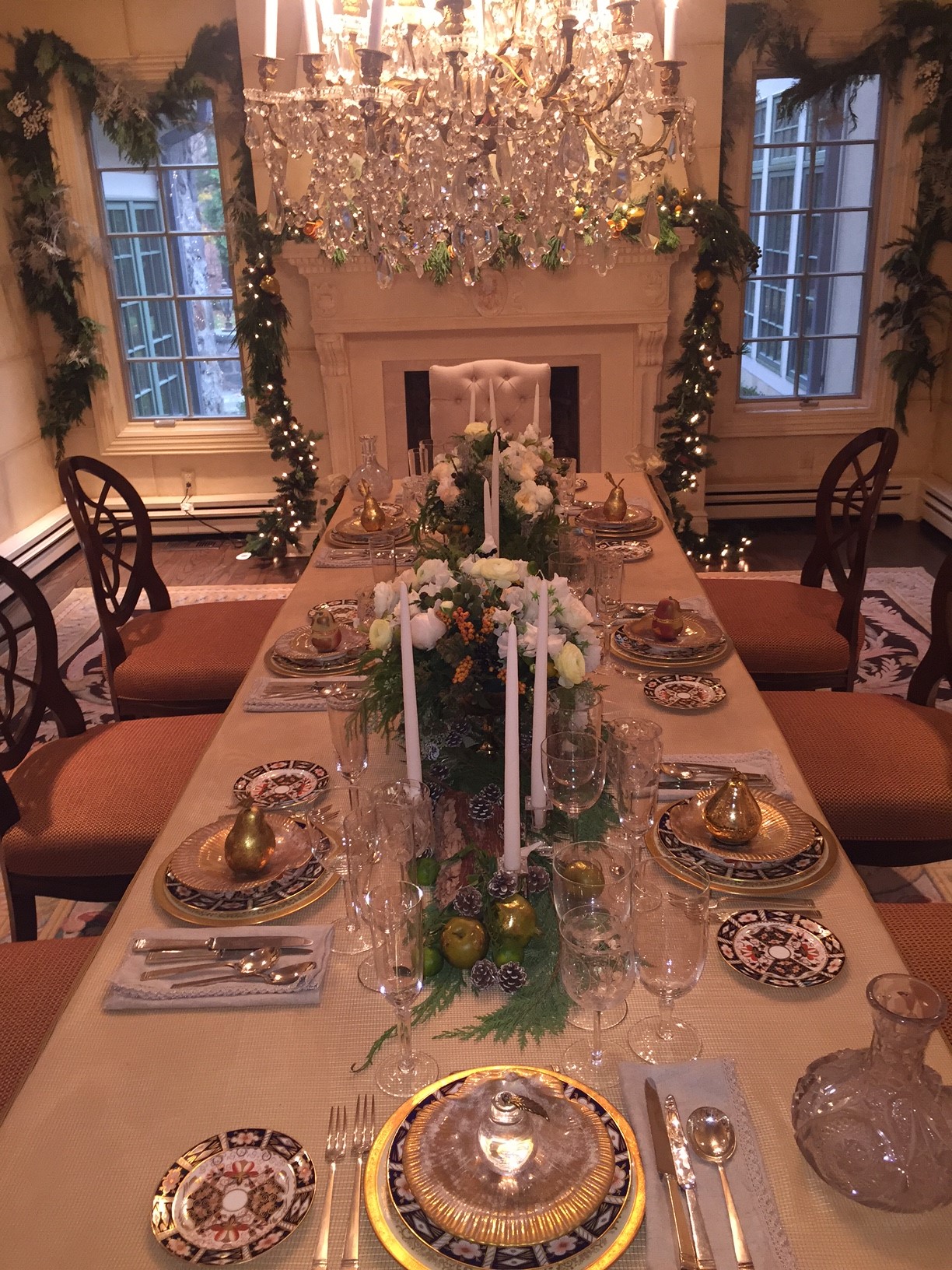 Dust off the fine china. If you do not have fine china……for God's sakes buy it. There are many places where beautiful china is available at all price points. It is time to understand the artistry of "Dining" properly. There is no crime in collecting dishes that you use only for important times of the year.
Do not be hung up on "matching" Mixing patterns, use gold trimmed items. Gold is an easy way to bring elegance and the holiday spirit to your table.
As for the center piece…and there should be one, use pieces of nature. Just go outside and find branches, small logs or bark pieces. I have sprayed them gold and just laid them in the center strip of the table, took a crystal bowl and put white flowers and pine sprays together spilling out and it transformed even the simplest of dishes into a wonderful display.
As for the table covering you have options. Buy woven straw place mats and spray them gold. If you prefer a table cloth do not skimp out. Make the cloth hit the floor. It is a detail that furthers the "elegance" that you are trying to achieve.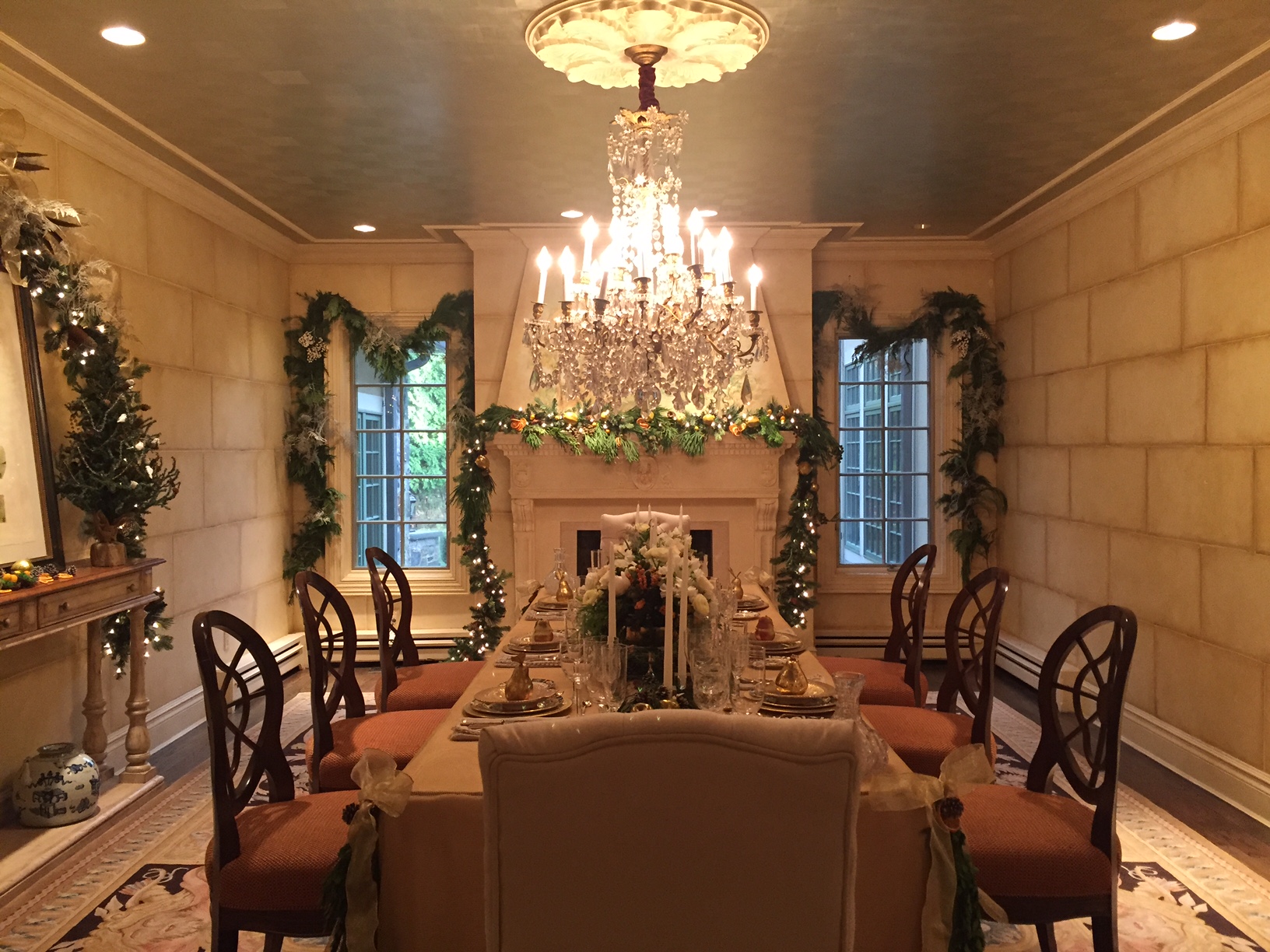 If you have a focal point in your dining room like a buffet or fireplace or even an archway, buy garland and drape it over that detail. A simple draped garland with some sprigs of holly with berries dresses the room for Holiday and gives your guests that Holiday spirit that everyone wants.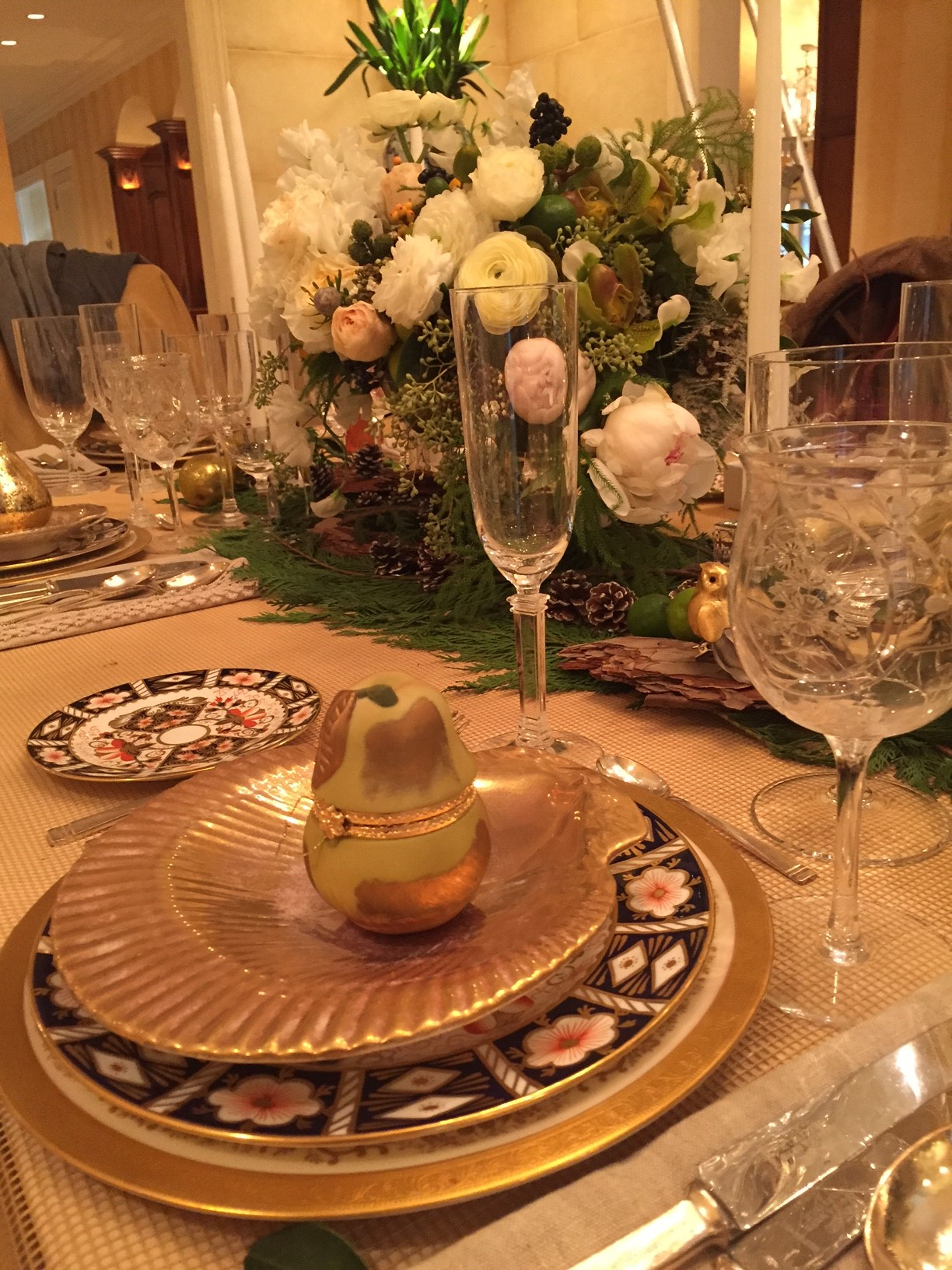 Lastly, find a small gift that you will continue to give year after year. I started a tradition of giving a decorative pear every year….as in a "partridge in a pear tree" I place it atop the dishes at each place setting. It not only further decorates the table but also gives each of your cherished guests a fond memory of your event. As it happens I have given this gift for 25 years, finding new, old and crafted pears…all different. My guests have come to look forward to their gift. It also creates a collection for them as well.
With these tools you can return to Holiday elegance and create the memories that you will hold on to year after year.
Enjoy the holidays, make them the thing from which memories are made.